Aircall offers callers the ability to dial a user's individual extension so that they can directly connect with the party they wish to speak with.
When a new user is created in Aircall, a three-digit extension number is automatically assigned.
How to locate a user's extension in the Dashboard:
Log in to the Dashboard.

Click on Users in the left-hand navigation menu.

Find and select the user that you would like to find an extension number for.
In the user settings:
Go to the General settings tab

Under Profile Settings, you will find the user's extension.
How to edit a user's extension:
Enter a new number in the Extension box.

Once you have entered new information, the Save Changes button will appear.

Click Save Changes when you are done editing.
How to locate your extension in the Aircall Phone:
Click on your User Icon located in the upper right-hand corner of the Aircall phone to open your Settings.

Select your User Name to find the extension number under Numbers.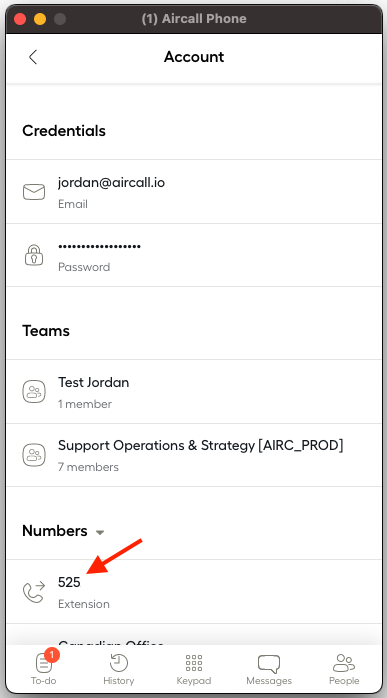 ⚠️ Please keep in mind that calls will only reach a user via an extension when it is dialed on a number in which they are included in the call distribution. Should the user be Unavailable, or not answer, the caller will receive an automated message and the missed call will be assigned to the user within their To-do list. Currently, this automated message cannot be changed or customized.
Voicemails left on an extension
Voicemails left on an extension number will appear in the To-Do list of the phone application for the extension owner only.
If a voicemail is left on an extension that does not belong to a particular agent, they can still access the voicemail by searching in the History section of the phone application.
How can customers dial an extension number?
In order to use the extension feature, there must be either an audio widget for a number using Aircall's New Call Routing Solution (Smartflows), or an IVR or Welcome Message for a number using Aircall's previous routing, activated on the phone line.
When a customer calls a phone number, the customer should then dial the extension number while the audio widget/message is playing in order to be directly connected.
⚠️ Extensions cannot be dialed during the IVR widget for Smartflow numbers.
Please note that as extension numbers have three digits, and it is necessary that all three digits are dialed in order to be connected to the specific user.