Intercom helps you build better customer relationships with scalable messaging that provides a more personal experience for you and your customers. Offering products for sales, marketing & support to connect with customers and grow faster. Thankfully, setting up Aircall's Intercom integration is a breeze!
To begin, please ensure that you have Admin rights in both Aircall and Intercom, and that all of your Aircall users are registered with the same email address on both accounts.
Installing Your Intercom Integration
Follow the simple steps below to get started:
Log in to the Aircall Admin Dashboard

Select Integrations & API from the left sidebar menu

Find and click on Intercom in the Discover integrations section

Click on Install integration to start the install flow
Under Select numbers click Add numbers
Select the numbers you would like to have linked to the Intercom integration, then click Add numbers in the bottom right corner to continue
⚠️ Please note that you may choose to skip this step if needed, but in order for call activity to log in Intercom, at least one number will need to be selected. If you would like to add or remove numbers associated with your integration at any point, you can do so directly in the Aircall Dashboard.
If you are not logged in to Intercom, after clicking Add numbers, you will be directed to a login page for Intercom

Once you are logged in, you will be taken to an authorization page. Click on Authorize access
⚠️ Please note that you can select which Intercom workspace you are integrating with by clicking the dropdown arrow. The integration will only work with the select workspace, however you can install multiple integrations if you are needing to integrate Aircall with multiple Intercom workspaces.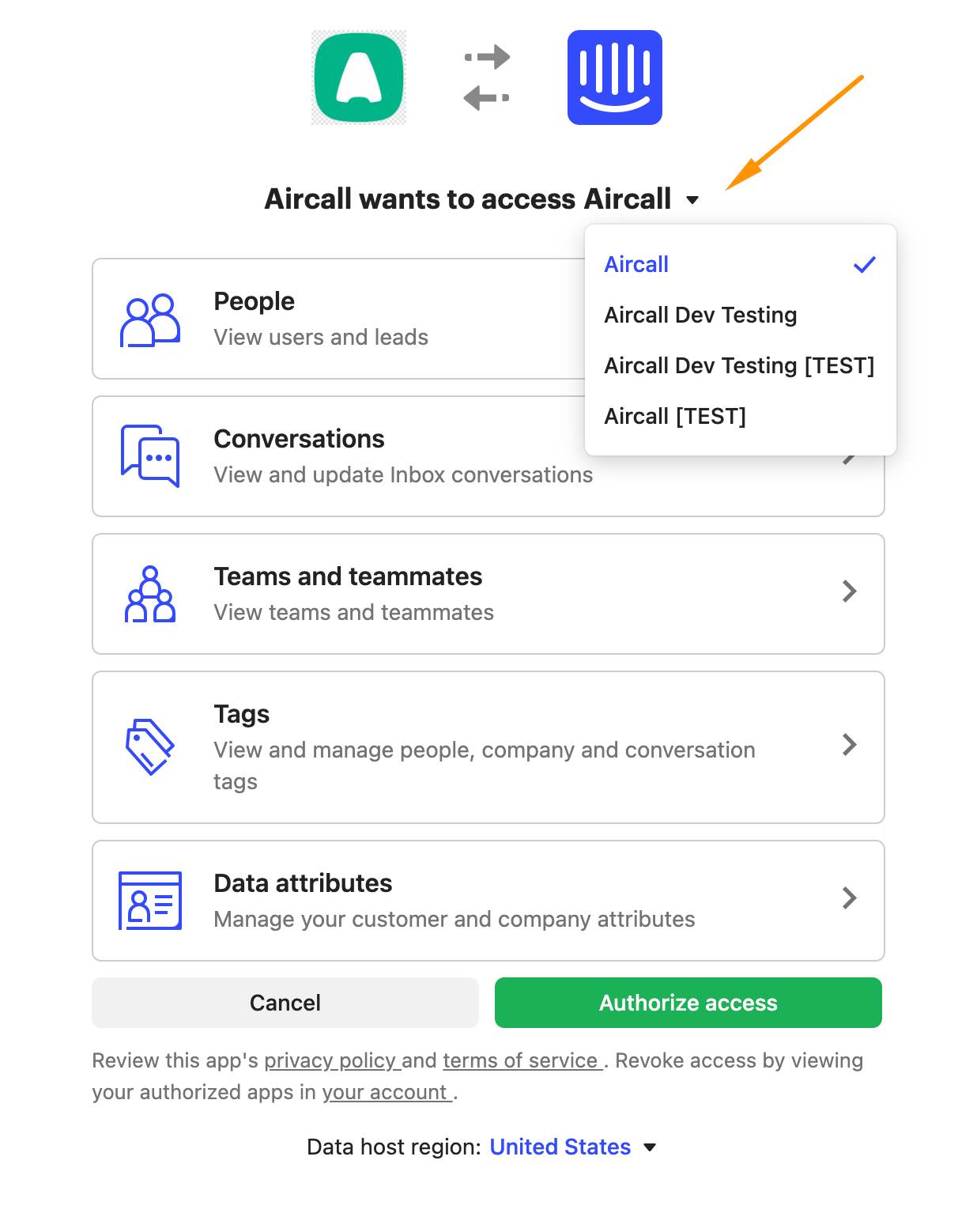 Once you have completed these steps, your integration is now active. Click Edit settings to be directed to your Intercom integration settings
Configuring your Integration Settings
After clicking Edit settings you will be directed to the page of the Aircall Dashboard where you configure your Intercom integration settings. There are two sections on this page: General and Settings.
General
Change your integration to/from Active/Inactive

Add a custom name for your integration

Add or remove the Aircall numbers you want connected to your Intercom integration. Please keep in mind that calls to/from any number not connected will not log in Intercom.

Delete your integration
Settings
Choose, for each type of call, how conversations should be logged
Choose, for each type of SMS, how conversations should be logged
Choose if calls should log only during business hours or even when numbers are closed

Choose if calls to/from numbers not already saved in Intercom should create a new User, a new Lead, or nothing

Choose if calls to/from numbers saved in Intercom, but not already saved in Aircall, should create an Aircall contact or not
Defining Assignment Rules in Intercom
The last step is to define your assignment rules for missed calls in Intercom. (Please keep in mind you will need an inbox seat to access this part of Intercom). As missed calls will not be assigned to any users by default, defining your assignment rules will allow you to have missed calls assigned to the person of your choosing.
In Intercom go to your Inbox, Automation, Rules, then click New rule

Select 'WHEN' 'A customer starts a new conversation', 'IF' 'Message Content contains Missed call on [Your Aircall Number]', 'THEN' 'Assign to [select a teammate]'. Click Save and set live