What is a VPN and how using a VPN can impact your Aircall experience?
A VPN is a Virtual Private Network that allows a user to connect to a private network over the internet securely and privately. VPN creates an encrypted connection, known as VPN tunnel, and all internet traffic and communication is passed through this secure tunnel.
A VPN adds an extra hoop for the traffic to pass through, which increases latency and adds extra encryption and security policies which can impact VOIP traffic.
When using a VPN, why is Split Tunneling recommended?
Split tunneling is a VPN feature that divides your internet traffic and sends some of it through the encrypted virtual private network (VPN) tunnel, but routes the rest through a separate tunnel on the open network. Typically, split tunneling will let you choose which apps to secure and which can connect normally.
This is a useful feature when you need to keep some of your traffic private, while still maintaining access to local network devices. This way you can access foreign networks and local networks at the same time.
How does VPN split tunneling work?
So, how does it work? Well, in order to understand what VPN split tunneling is, you first need to understand the basics of a VPN server.
By default, your device will likely have a single, direct connection to the internet, through which your data will be sent and received. But, when you use a VPN, this creates a secure connection between your device and a VPN server. That VPN server then accesses the internet on your behalf. So, every bit of data gets sent and received through the secure VPN server.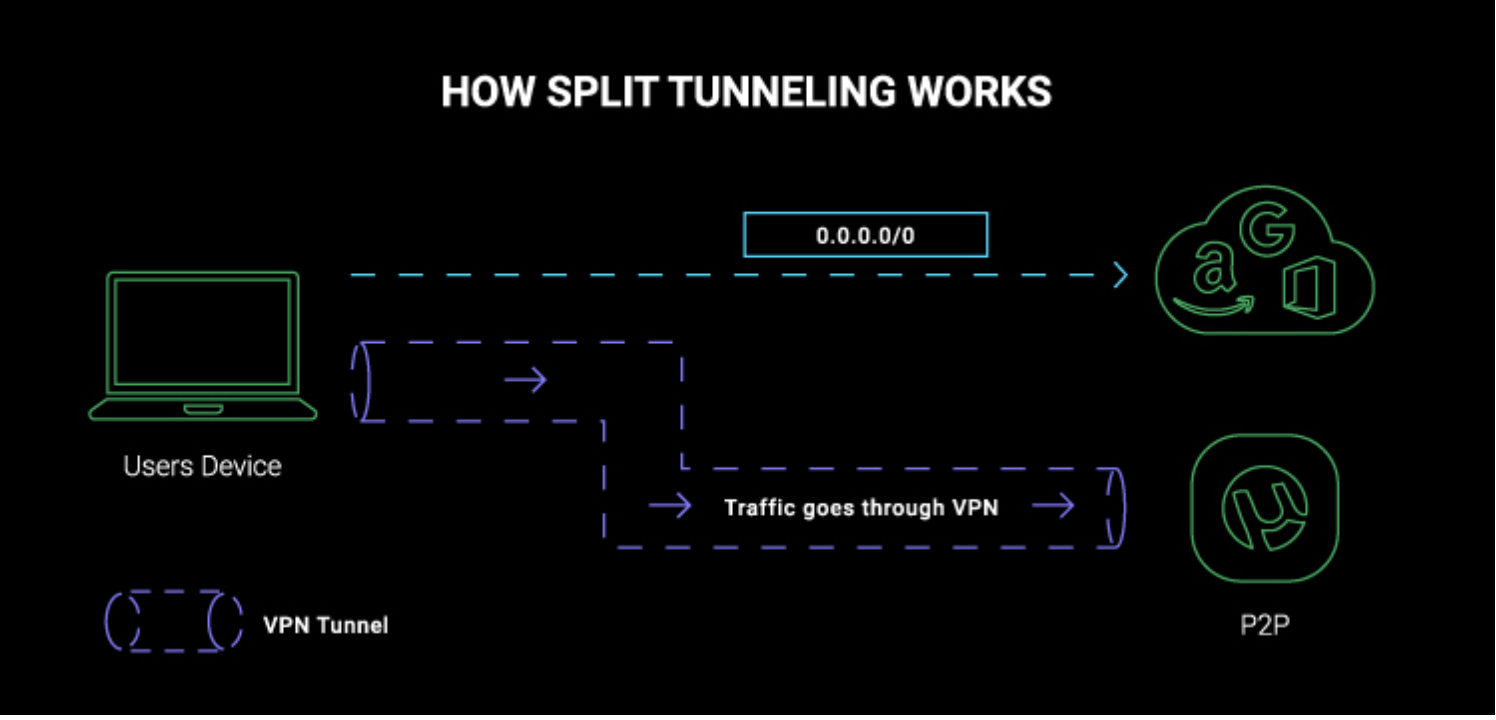 As a benefit, this keeps all your data completely encrypted, but, because everything needs to travel through the VPN, it can also slow your internet speeds.
Split tunneling works by giving you two connections at the same time: the secure VPN connection and an open connection to the internet. So, you can protect your sensitive data without slowing down your other internet activities.
Different types of VPN split tunneling
There are a few different ways to implement VPN split tunneling:
URL-based split tunneling lets you choose exactly which URLs you want to be encrypted through the VPN. This is usually done using a VPN browser extension.

App-based split tunneling works in a similar way, as it lets you choose which apps you want to be routed through your VPN, while the rest of your traffic travels through your regular network.

Inverse split tunneling works the opposite way. While these first two examples route everything through the open network by default and you can choose which apps and URLs you want to be routed through your VPN, with inverse split tunneling, all traffic is automatically sent through the VPN unless you specify otherwise. With inverse split tunneling, you choose what URLs and apps you don't want to go through the VPN rather than the ones you do.
Configuring split tunneling (For advanced users only!)
Most of VPN clients support the above types of split tunneling, however if your client doesn't support this feature you can use built-in Windows or Mac features depending on your use case (Advanced users).
How to Enable VPN Split Tunneling in Windows 10
Right-click the Windows 10 Start button and go to Network Connections.

Click Change adapter options.

Right-click your VPN connection and open Properties.

In the Networking tab, select Internet Protocol Version 4 (TCP/IPv4).

Click Advanced.

In the General tab, click Advanced.

Disable Use default gateway on remote network.

Restart your VPN connection.
Then by adding static routes you can specify the used interface for each IP:
To add a static route to the table, type a command using the following syntax:
route add destination_network MASK subnet_mask gateway_ip metric_cost
The subnet_mask and metric_cost components are optional to the command. If you don't specify a subnet mask, 255.255.255.0 will be used automatically. If you don't specify a metric cost, a cost one greater than the 0.0.0.0 destination entry will be used. The metric cost value is just a cost that is relative to other costs in the table and is used when Windows decides between multiple routes that could reach the same destination.
So, for example, if you wanted to add a route specifying that all traffic bound for the 192.168.35.0 subnet went to a gateway at 192.168.0.2 and you just wanted to use the automatic metric cost, you would use the following command:
route add 192.168.35.0 MASK 255.255.255.0 192.168.0.2
How to Enable VPN Split Tunneling in Mac
Go to System Preferences > Network.

In the left sidebar, click your VPN connection and go to Advanced settings > Options.

Uncheck the box for Send all traffic over VPN connection.

Save your changes and connect to the VPN.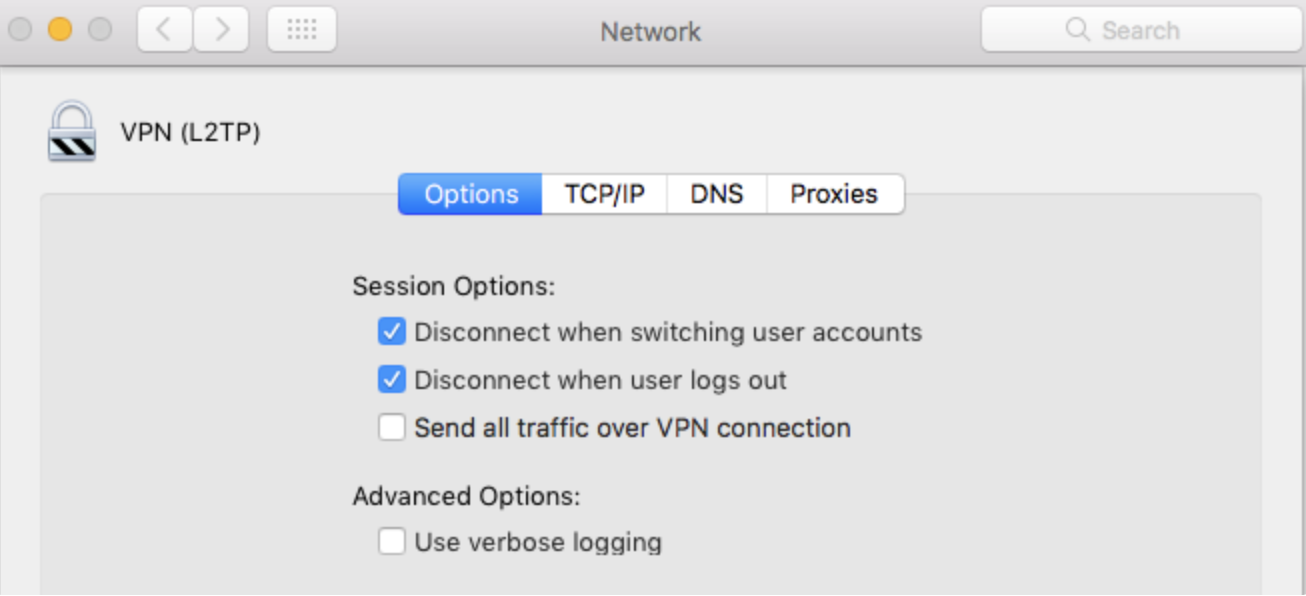 Then adding static routes to specify the gateway
Executed from Terminal
sudo route -n add -net 10.0.0.0/8 x.x.x.x
Type ifconfig into the terminal in order to know the VPN interface.
Kindly find below some examples for Split tunneling configurations -
ExpressVPN split tunneling configuration:
https://www.expressvpn.com/support/knowledge-hub/split-tunneling-desktop/
https://www.expressvpn.com/support/vpn-setup/app-for-android/#split-tunneling
NordVPN split tunneling configuration:
What is VPN split tunneling? How does it work? | NordVPN
OpenVPN split tunneling configuration: