⚠️ Before enabling Conversational Intelligence for Aircall calls, please make sure it is enabled in HubSpot.
Conversational Intelligence (CI), provided natively by HubSpot, allows users to listen to, share, and analyze calls directly in HubSpot.
Aircall now provides a solution that allows agents to obtain call transcriptions and play recordings with the CI feature from HubSpot, enabling users to be able to coach teams more effectively and give access to team members who may not have an Aircall account but do have HubSpot one.
Main features of HubSpot CI and Aircall:
Listen to recordings directly on HubSpot: Sales Hub and Service Hub within the CRM interface.
Obtain transcripts of conversations with a split of conversation between agent and client - Languages supported: Default languages list.
Share whole or partial recordings with colleagues.
Select terms to be tracked in later conversations, which can be reported on - Terms tracking: When a term is mentioned in a recording, that data will become available in the custom report builder.
After the transcript is generated, you can search for keywords within the transcript, so you can see in what context they were used. There is a search bar where users can type the word they are looking for.
Enabling HubSpot CI for Aircall:
To enable Conversational Intelligence, navigate to your HubSpot Integration settings in the Aircall Dashboard. You will need to agree to a legal disclaimer in the integration settings page:
Please note: The default owner in the integration settings can not be set to Nobody, due to a limitation. Please make sure you have selected a user to be the default owner: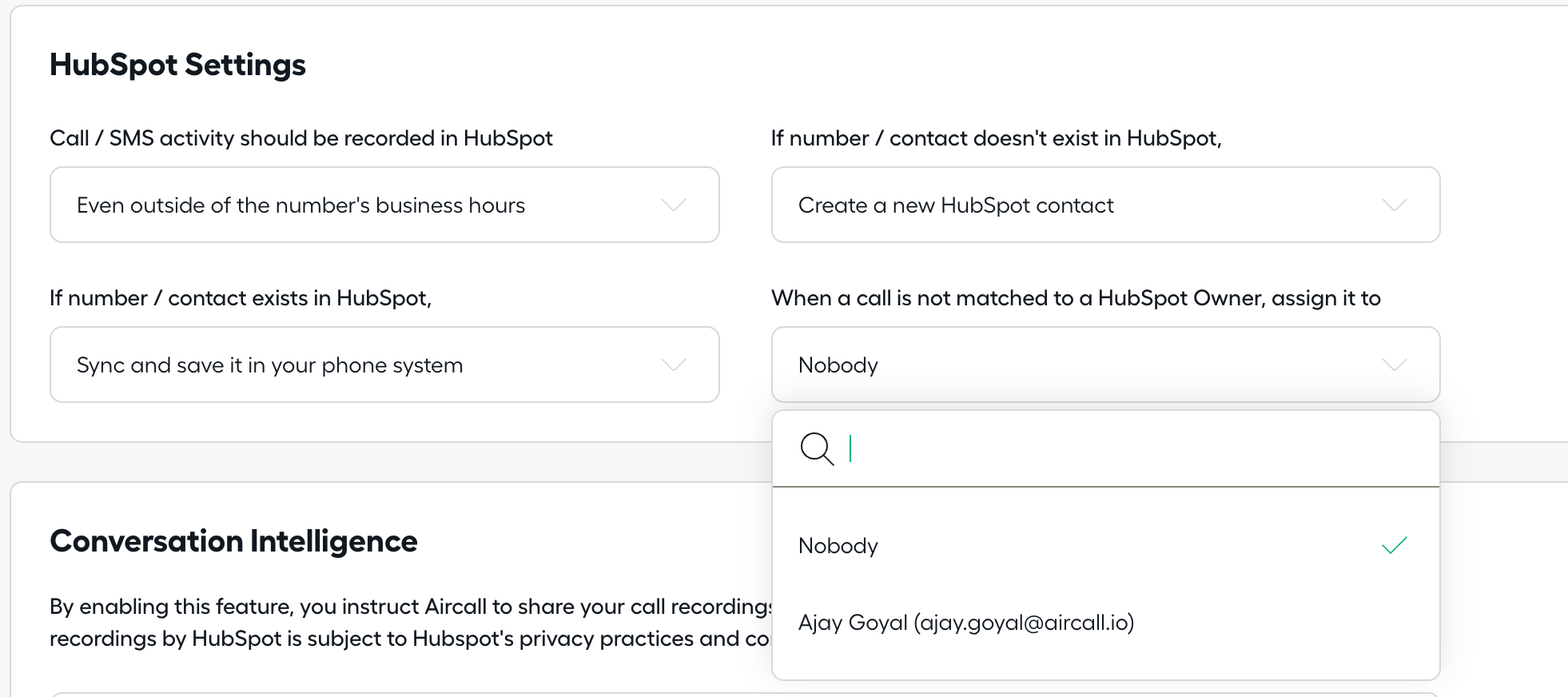 What Plan Will I need in HubSpot to Access this Feature?:
FAQ
Does Aircall send the recordings to HubSpot?
No - Aircall does not send recording from Aircall to HubSpot. Recordings are kept in Aircall, and made available through HubSpot's interface.

How long can I listen to recordings on HubSpot?
Aircall will be hosting/storing recordings for 1 year. During this 1 year, users can play the recording on HubSpot directly.

Will I have to pay HubSpot for hosting the recordings?
As Aircall is storing the recording there is no hosting/storing cost applied for Aircall recordings by HubSpot.

Does Aircall send transcriptions to HubSpot?
No - Even though Aircall also offers transcriptions, transcriptions for HubSpot CI are done by HubSpot, not by Aircall. Transcripts are stored on the HubSpot side, and any hosting/storing costs from HubSpot policies are applicable.
The transcriptions of Aircall and HubSpot may differ.

What is the format of the files?
MP3

Does CI follow the same rules as with Aircall? I.e. if a user is not assigned to a line, they can't access the recordings from that line?
Recordings on HubSpot are accessible to all users with the right permissions in HubSpot, and Aircall does not have control over who can access recordings on HubSpot. If you are a user with an assigned Sales Hub or Service Hub Professional or Enterprise paid seat, you can use Conversation Intelligence (CI) to transcribe and analyze recordings.