Once you have downloaded and installed our Aircall Android app, the next step is to make sure that your settings are properly set up to use Aircall.
Allow Aircall settings
Log in to your Aircall Android app.

You will see a Permissions window requesting access for the Microphone, Notifications, and Contacts in order to configure your app.
⚠️ The Microphone and Notification permissions are required to enable the app, while the Contacts permission is optional.
Setting up your Aircall mobile app call notifications
Aircall requires access to incoming calls notifications. This will allow you to stay connected and receive calls and notifications even when you are not in the app.
Toggle on to allow Call Notifications
You will be redirected to the Background settings where the Battery Saver option is set by default.

Select No restrictions.
⚠️ If you do not select No restrictions from the Background Settings, you will receive a popup message warning you that this might cause issues when receiving notifications and you will be redirected to the Background Settings page.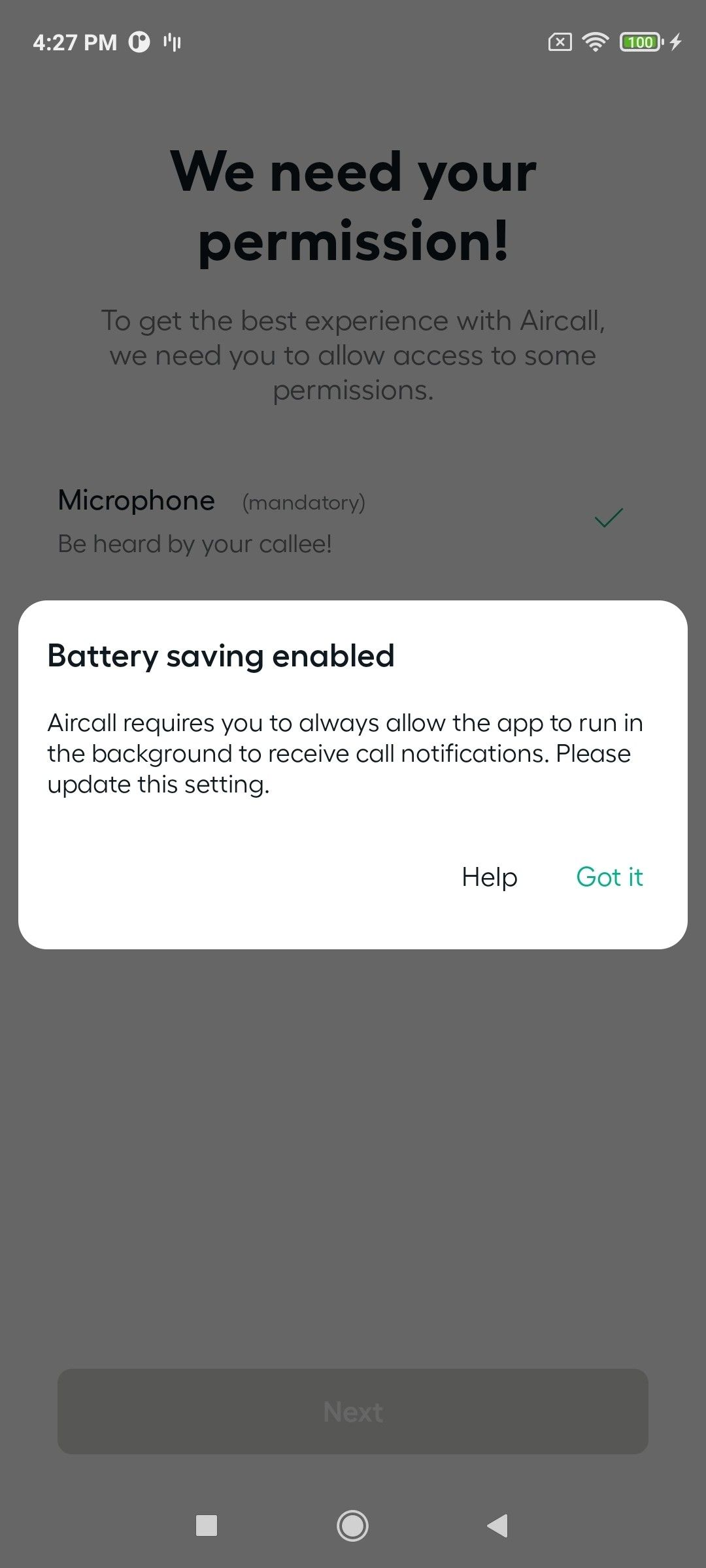 If you need to update this setting at a later time, please navigate on your mobile device to Phone settings > Battery & power saving > Battery usage > Aircall > Select "No restrictions"


⚠️ The name and location of these options might change depending on the MIUI version.
Notification restrictions
Please make sure to check the notification restrictions are not enabled for Aircall by navigating on your mobile device to Phone settings > Apps & Notifications > Aircall > Background restrictions or Background limits, and making sure they are disabled.
Other recommendations
If you are facing issues with the Aircall app (e.g. not receiving incoming calls or notifications) there are some additional settings that may help:
Auto-start app
Some manufacturers may require that you enable the app to auto start when your device is turned on. To do so, you can open the App info (typically found under Settings > Applications > Aircall).
Display pop-up windows
On some devices, you may need to enable pop-up windows. Make sure to navigate to Settings > Apps > Permissions > Other permissions > Aircall and ensure both Display pop-up windows while running in the background and show on lock screen are enabled.
Now you are ready to start using Aircall on your Xiaomi device! 🎉
💡 Note: You will initially receive these messages when you log into the Aircall Mobile App for the first time. If at any given time, the app detects that these settings are not correctly set up, the messages may pop up again.