If you are an admin user, you will be able to access and manage user settings for yourself and others within the Aircall Dashboard.
In the User settings, you will be able to update Profile Information, view associated Numbers and Teams, set Availability, define Call Preferences, and determine Email Notifications that you would like to receive.
If you want to go to your personal settings, you can easily access your Profile by clicking on your name in the upper right-hand corner of the Dashboard.

If you would like to access other users' settings, you will need to select them from the Users section in the left-hand navigation menu.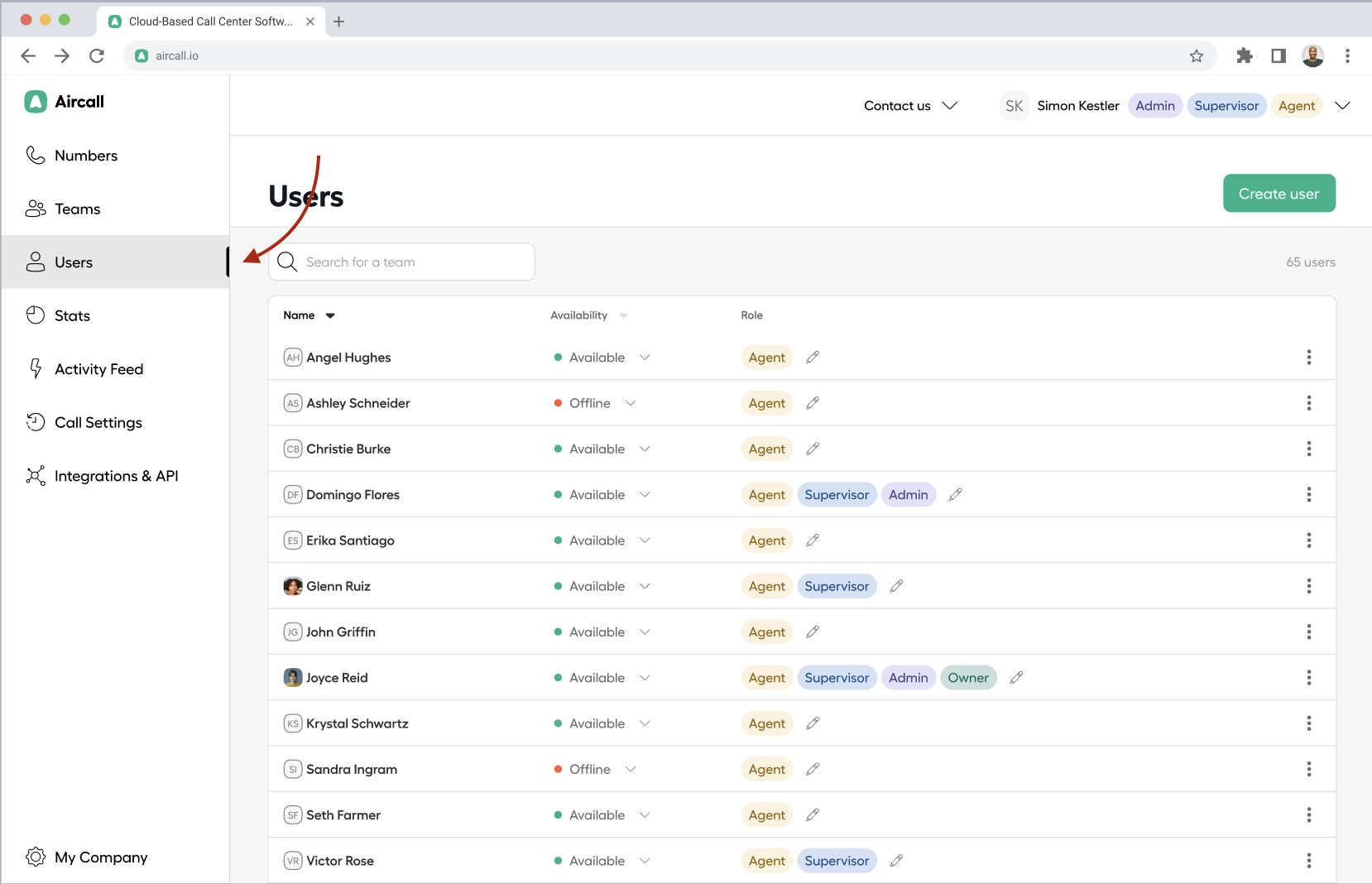 User Settings
General information
In this section, you can upload a profile picture, view or change your password, account role (depending on your current role), language, extension number, or update personal information like your name and email.
Numbers & Teams
From the Numbers & Teams tab, you can view phone numbers and teams associated with a user. In the Numbers section, you can also set a default number for calling out.
Availability
Here, you can update your availability status and set up custom working hours.
📚 Learn more about how to update your availability status here.
⚠️ Please note: Users can manually set themselves as Unavailable during their set working hours and choose the unavailable sub-status in the Phone app. Admins cannot change or select the sub-status from the Dashboard.
Call Preferences
Set your calling preferences here. These preferences include number displayed to callers, default phone prefix, ringtone, and post-call wrap-up time. These preferences can also be set in the Aircall Phone application. See how here.
You may also set up Forward call to external number or Forward calls to SIP device features in this section. See how to set this up here.
Notifications
In this section, you may determine which Email Notifications you would like to receive for your calling and account activity. These notifications include Voicemails, Calls assigned to you, Invoices, Daily summary of calls to follow up, Activity report, and Webhooks automatically disabled.
---
Still in need of assistance? Please feel free to reach out to the Support Team and we will be happy to assist!